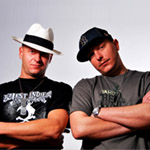 Soca Twins - The German Soca Ambassadors
Typ:
DJ, Soundsystem
Genre:
Calypso, Caribbean, Dancehall, Mashup, Soca
Biografie:
Soca Twins from Berlin are Germany's leading Soca DJs (Franky Fire and MC Boone Chatta) and also worldwide one of the best soundsystems when it comes to Soca music. There are not average DJs - when they play you get a show on stage. After being nominated at the 'International Soca Awards' seven times in a row, Soca Twins have won the award 'International Soca DJs of the Year' in 2011. In 2008, their mix "Addicted 2 Soca" has already won the award for 'Best Soca DJ Mix'. Therefore, Soca Twins are the first Europeans to gain worldwide reputation in the Soca business.